Alrighty, the list that most of you all have been waiting for. It's the last top 10 list coming from this series where we defined the top 10 players from each 6 positions.
google.com, pub-9964423801906113, DIRECT, f08c47fec0942fa0
Time to take a look at the top 10 QBs going into Madden 23 (assuming they continue their career as QB and sign up for S6). The requirements and grading goes as follow:
a minimum of 2 seasons played at that position
Pass YDs, Pass TDs, Pass INTs, QBR, and Pass % where the criteria of ranking these QBs. NOTE: these metrics are looked at on a season average; NOT total EXCEPT % and QBR. the % and QBR are just the total number from their VFL career because if I were to take for example the average of 75% over 4 seasons, It would've been 25% which isn't correct. 
The formula is straight forward. I took a players total Passing Yards/ the # of seasons they played in. Same along with Pass INTs, and Passing TDs. You can find each players season averages below the image.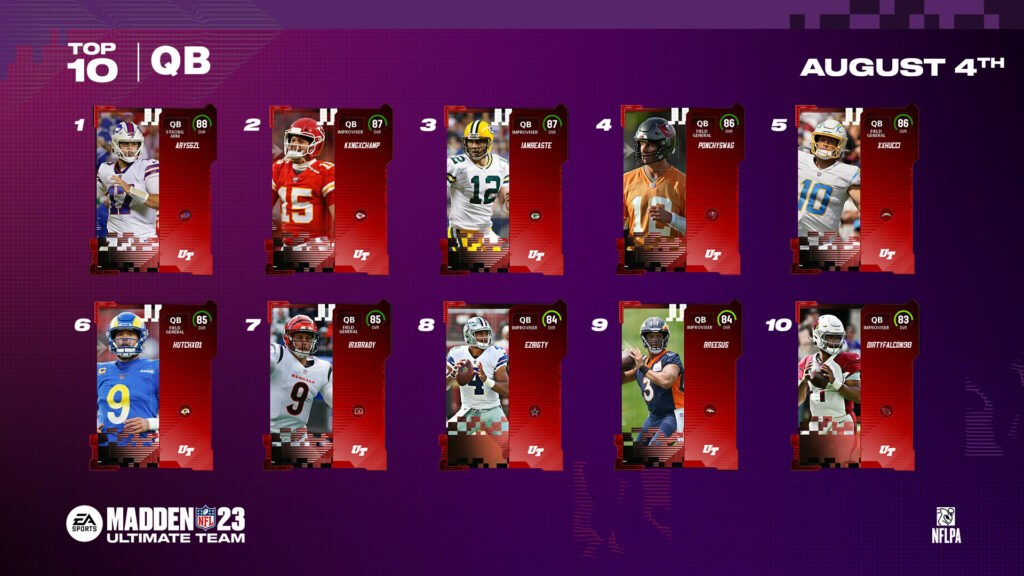 1.) AbyssZL – 2242 Pass Yds, 75%, 143 QBR, 21 TDs, 8 INTs
2.) KxngxChamp – 2289 Pass Yards, 75.1%, 147 QBR, 18 TDs, 9 INTs
3.) IamBeaste – 1989 Pass Yards, 75.4%, 138 QBR, 16 TDs, 8 INTs
4.) PonchySwag – 2104 Pass Yds, 73.9%, 132 QBR, 22 TDs, 11 INTs
5.) xxHucci – 1511 Pass Yards, 73.5%, 139 QBR, 13 TDs, 9 INTs
6.) Hutchx81 – 2386 Pass Yards, 69.7%, 117 QBR, 23 TDs, 15 INTs
7.) IRxBrady – 1891 Pass Yards, 69.5%, 122 QBR, 16 TDs, 12 INTs
8.) EzBigTy – 1726 Pass Yds, 71.4%, 110 QBR, 13 TDs, 11 INTs
9.) Breesus – 1753 Pass Yds, 45.6%, 135 QBR, 20 TDs, 10 INTs
10.) DirtyFalcon98 – 1303 Pass Yds, 67%, 124 QBR, 10 TDs, 8 INTs