I caught up with the Suns lock HoLLyBlaCkWooD & the Grizzlies owner Call Mee Kyle for a quick interview.
google.com, pub-9964423801906113, DIRECT, f08c47fec0942fa0
HoLLyBlaCkWooD
How confident are you going into your matchup vs CLEVELAND CASH & the Memphis Grizzlies? Whats your series prediction?
Im extremely confident going into my matchup with Cleveland Cash & the Memphis Grizzles! All season we've preached team defense and we trust in that! We have excellent defensive anchors in x KING JON x & MRxxUSERxxPICKx, couple that with my on ball capabilities improving as the season continues, yeahhhh bitch! ! Series Prediction — eh Im not a big fan of those — But Id say that if we play our game and leave it all on the floor this series should be over in timely fashion !
So since you believe the Suns will move onto the finals. Who do you think will come out the East? Also do you think any of the remaining 3 teams can compete with yall? (Bucks, Nets, Grizzlies)
its gonna be a dog fight on the East between the Bucks and the Nets ! Giannis vs KD It honestly can go either way — but from what Ive seen is you gotta bet on Giannis, its just that simple. And do I think any of the remaining 3 teams can compete with us? No — its literally just Us bro. We are our biggest competition remaining in these playoffs. Simple
Some people have been doubting that User Pick is the MVP…What do you have to say to that? Are people just salty?
Salty … tuh ! Listen Linda — for anyone to say that Pick doesn't deserve MVP while being at the top of the league with fuckin Landry Shamet can drown in Pelican Bay and thats on Mary and her Little Lamb tf ! But to answer your question –> Y E S <– he is the MVP , fuck we talkin bout
Do you think YoGuardBron is the ZEUS of 2k?
Id never call anybody Zeus on this shit ass game and thats word to my nigga x KING JON x
Call Mee Kyle
How confident are you heading into your WCF matchup vs the Suns? What do you think the outcome of the series will be?
Honestly very confident I threw 5 together the last week of the season just to show up for the game and beat them. I think this series goes 5 games grizzlies 3 suns 2 cash beats picks line in game 5 Jon gets dropped off by woody in game 5 like what happened in the regular season when he was facing saver
So since you believe the Grizzlies will move onto the finals. Who do you think will come out the East? Also do you think any of the remaining 3 teams can compete with yall? (Bucks, Nets, Suns)
I honestly think the bucks come out the east don't really know much about the nets think the finals will be close just based on them having the bucks
I've been hearing that players on the Grizzlies felt cheated that they didn't win some awards…Do you feel the same way? Also do you think this is the driving force behind your teams level of play?
I think cash should of won mvp definitely pick played weak teams in my option and people can say cash had a star but the other 9 owners could of picked the grizzlies but didn't. In my opinion Eli should of gotten sf of the year averaged 30 with brooks. I think the awards will be why cash line wants to beat the suns more and more
Do you feel like this szn is a ring or bust or would you be alright if your team lost the WCF?
No I don't think so we been the underdogs all season they projected us 3 or 4th in the west before the season started so I think we're gonna prove the doubters wrong
Would you call all the people low iq who have questioned your trades this szn?
Honestly switzo is good player but he didn't show up for his playoff game which made them forfeit so I think we made a great decision there. Wish we kept Kurupted but confusion happened making that happen. eboK trade was great he was an easy beat for us in the 1st round of the playoffs.
Do you think YoGuardBron is the ZEUS of 2k?
He's good player just don't think he's the best player in the league that's my opinion though
Revolves caught up with the Bucks owner & Nets GM for an interview.
Lomstar
How confident do you feel going against a super team 2k wise of the Nets?
Im confidant in my team. This is a video game though shit happens lol
You guys already won game 1, so what does your team need to do in order to keep winning?
We have to be available lol. Lord and zhas line have mostly been available but between messed up trades and availability our hardest thing is to be available
What do you have to say to some people saying you're only in the offs because of the bucks?
In fine with that. Thats one thing about me I dont care about the talk. There is only one winner each season and we dont have one yet
If you advance to the finals, who do you believe you'll be playing there and why?
If we do make it i think we will be playing the Suns. Dont get me wrong grizz can get there but I think it will be suns. Both haden and Kyle put good teams together and i know it will be a dog fight between them and then another from whoever comes out the east
You were previously suspended during the season, but never had a chance to talk about it in an interview. Can you say your side of the story for the whole VBA to see? Did you believe it was the right thing?
I was suspended because they say i didnt put stat in. I put every stat in and "somehow" they disappeared. I wasnt even given a chance to put in again. I was going to appeal but just took the game. Dont want to bash staff so i wont get too deep into it (pause) but i definitely hope they are better for upcoming seasons
If you win it all, will you return as an owner next season?
No i will not be returning as owner. I was owner first season because i am an of of vfl and vba so i definitely want to see it at the top but im cool on owner for now lol. I still see guys with the same mindsets and the same childish bullshit from 10 years ago and i really dont be trying to deal with that. I will be a player and get guys to sign up every year and spread the word but no owner for me until there is no bias and everything runs damn near perfect which i hope happens but i doubt it
If Ebok was next to you right now, would you slap him or shake his hand?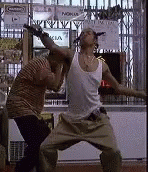 I would do neither. I stay away from tough guys because they scare me and when im scared
Lmao…na i wouldnt do shit. This is a game i talk shit but i really dont care. I just want everything to be even on all sides and we are good in any situation
Do you have anything to say to the people of the league for your last question?
I appreciate everyone who tried to keep the league going and i hope we can push it far. Thanks to the owners who stuck with it and didnt give up. Thanks to the players who kept fighting win or lose. Thanks to my team because we definitely went through a lot behind the scenes lol. Hope to see everyone season 2 and hopefully that will be with me a champion but win or lose ill be there
LA CHAOS225
How confident do you feel about beating the bucks with arguably the best player on 2k(Giannis)
I feel confident the first game we had against them was the second time they beat us and I don't think they can beat us in a 5 game series
What things do you need to do as a team to secure those wins?
Need to move the ball and hit our shots make them help
Who in your opinion is the most toxic of the league and why
Trying to get me in trouble lol, But honestly I think it is fab but I like the beef ain't no hard feelings
What made you guys decide to do the aids lineup(ben and drummond) instead of a 5 out?
Defensive purposes and Ben doesn't have great rebounding Drummond has a 94 offensive rebounds and 97 defensive so we won't get out boarded
If your team advances, who do you believe you will play in the finals and why?
Don't care. We winnin it all.